At Key Potential Chiropractic, we value your decision to trust us with your health and well-being. We want you to be absolutely sure you've made the right choice in chiropractic care, and that starts with getting to know the people on our team. We may be small, but we are dedicated to being the best chiropractors we can be. Continue reading below to learn more.
Chiropractor
Kelsey Pettitt D.C., C.A.C.C.P.
Dr. Kelsey (Eischeid) Pettitt grew up on a farm right outside of Carroll, Iowa. She is the daughter of Bob and Beth Eischeid. Dr. Pettitt attended Kuemper Catholic High School where she participated heavily in Basketball and Softball.
Dr. Pettitt went on to study exercise science at Iowa State University. Shortly after high school, she met her husband, Wade Pettitt at the Carroll Country Club! After working for a few summers with Wade at the golf course, they both moved to Davenport, Iowa where Dr. Pettitt attended Palmer College of Chiropractic.
Since school, Dr. Kelsey and Wade have opened a clinic in Waukee where they focus on reversing neuropathy naturally! With such great success in the Des Moines Area, they decided they wanted to bring this formula back to their hometown.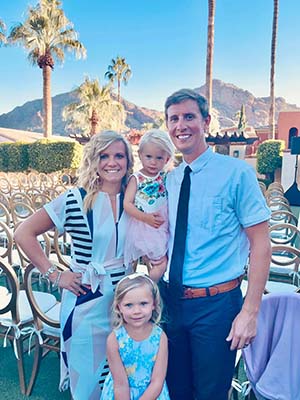 chiropractor
madison johnson D.C.
Dr. Madison Johnson grew up in the rural town of Guthrie Center, Iowa, and received both her Bachelor of Science in Human Biology and Doctorate of Chiropractic degrees from Texas Chiropractic College. There she was awarded top academic honors including graduating Summa Cum Laude and Salutatorian of her class.
She was also merited the Faculty Association Academic Excellence Award and the Outstanding Chiropractic Technique and Skills Award. Dr. Madison was a Presidential Ambassador as well as a member of the Omega Psi Honor Society.
In addition to academic excellence, Dr. Madison is very passionate about caring for the prenatal and pediatric patient population. She holds a certification in the Webster technique and is currently an active member of the International Chiropractic Pediatric Association where she received her advanced training in pediatrics and pregnancy.
Dr. Madison takes a holistic approach to patient care, looking at the overall picture of a patient's health as opposed to one aspect of health. By utilizing all of her resources, she is better able to offer whole body care for her patients to truly heal on every level.
When she's not busy changing lives in the clinic, Dr. Madison enjoys being outdoors, spending time with her family, and staying active in her church and community. Dr. Madison believes you're one adjustment away from having a great day!
office manager
wade pettitt
Wade also grew up in Carroll, Iowa and attended Carroll High School. He is the fourth oldest of twelve kids. He is a two-time Iowa High School State Golf Champion and continued his career at Indian Hills Community College and Drake University before turning pro in the fall of 2008.
Wade played on professional mini-tours all across North America including the Canadian Tour, Gateway Pro Tour, and the Dakota Tour. The golf course, of all places, is where he and Dr. Kelsey first met.
Wade was introduced to chiropractic care as a young child and was lucky enough to experience the health benefits all throughout his life. As a child, whenever he or any of his siblings were sick, his mother would first take them to see the chiropractor. Getting adjusted helped boost their immune system and fight off illnesses much quicker! Wade is excited to educate the Waukee and Greater Des Moines area on the numerous benefits of neurologically-based chiropractic care.
chiropractic assistant
susan lahaise
Hi, my name is Susan LaHaise. I'm originally from Southern California and my previous employment was as a department manager at Nordstrom and then went on to be a recruiter at Apple One. Following the birth of my sons, I decided to become a stay-at-home mom.
In February 2018, my family started a new chapter in our lives and relocated to Iowa. We've met so many wonderful people and I can say "Iowa Nice" is a real thing! I had the pleasure of meeting Dr. Kelsey and Wade at the Italian Festival in downtown Des Moines that summer. Not only did I find a wonderful chiropractor, I eventually became a part of the Key Potential Chiropractic Team!
chiropractic assistant
jessica
Hi, my name is Jessica, I am originally from Michoacan, Mexico, but I grew up here in Iowa. I am a proud mom of two beautiful baby boys. So when I am not working, I am running around enjoying time with my family. I love to travel and get to know places I have never been. I also love to dance and make new friends. I love being part of the Key potential Chiropractic team, where I can have the opportunity of helping the Spanish-speaking community to have a better quality of life.
Hola, mi nombre es Jessica, soy originaria de Michoacán, México, pero crecí aquí en Iowa. Soy una madre orgullosa de dos hermosos bebés varones. Entonces, cuando no estoy trabajando, estoy corriendo disfrutando del tiempo con mi familia. Me encanta viajar y conocer lugares en los que nunca he estado. También me encanta bailar y hacer nuevos amigos. Me encanta ser parte del equipo quiropráctico de Key Potencial, donde puedo tener la oportunidad de ayudar a la comunidad de habla hispana a tener una mejor calidad de vida.
junior intern
brooklyn pettitt
Brooklyn Pettitt was born at her parent's home in Davenport, Iowa while Dr. Kelsey was attending chiropractic school. She received her first chiropractic adjustment just a few hours after birth. The first few weeks of Brooklyn's life were tough on both her and her parents. 
Brooklyn suffered from colic and inconsolable crying early on and would cry for four to eight hours every day. This was extremely difficult for not only her but her brand new parents as well.
Sleep was hard to get, and there were a lot of tears to go around. Thankfully, Dr. Kelsey was in the midst of her International Chiropractic Pediatric Association certification and had the help of expert pediatric chiropractors all around the country. Within just a few weeks, Brooklyn's body was able to heal and recover naturally. She is now a happy and healthy young lady who will share the biggest smile with all practice members in the office.
junior intern (in training)
blaire pettitt
Blaire Jordan Pettitt was also born at her parent's home, via water birth on July 3, 2019 (just one day before mom and dad's wedding anniversary)! Dr. Kelsey came to the office during our Wednesday morning hours to get her own adjustment by our Maternity Coverage Doc (knowing the great benefits of chiropractic care for pregnant mothers.)
And she even hopped into action administering specific and gentle chiropractic adjustments for a few of current practice members-only hours before the smooth arrival of Blaire later that afternoon! Blaire received her first pediatric adjustment when she was just minutes old!
OFFICE HOURS
---
Monday
10:00am - 1:00pm
3:00pm - 6:00pm
---
Tuesday
3:00pm - 6:00pm
---
Wednesday
8:00am - 11:00am
---
Thursday
10:00am - 1:00pm
3:00pm - 6:00pm

---
Friday
Closed
---
Saturday & Sunday
Closed